ABOUT
For more than ten years Holly Kearl has addressed gender-based violence and women's equity issues, starting with volunteer work at a local domestic violence shelter during high school.
Consultant:
Holly does consultant work for UN Women and the American Association of University Women.
She is available to do other consultant projects. Her expertise includes: writing, researching, and social media, and topic specialities: gender violence, sexual harassment, street harassment, and Title IX.
Street Harassment:
Tired of strange men whistling and honking at her, calling out to her, following her, and grabbing her when she was alone in public, Holly wrote her master's thesis on gender-based street harassment and how women were using online websites to combat it.
In 2008 she founded an anti-street harassment website and blog and began working on an anti-street harassment book.
In 2009 she wrote one of the only books about street harassment: Stop Street Harassment: Making Public Places Safe and Welcoming for Women (Praeger Publisher, 2010).
On Oct. 28, 2010, Holly testified before the New York City
Council during a hearing about street harassment.
On Nov. 23, 2010, she presented at the 3rd International Conference on Safety for Women: Building Inclusive Ciites in Delhi, India. (See photo below)
Holly is the founder of International Anti-Street Harassment Day, the first annual commemoration took place March 20, 2011. Meet Us on the Street: International Anti-Street Harassment Week took place March 18-24, 2012 and April 7-13, 2013.
In 2011, Holly joined the board of Holla Back DC! and participated in the elite Women's Media Center Progressive Women's Voices training. She was selected as a gender reviewer for UNHABITAT's 2013 global report on human settlements.
In 2012, Holly helped launch an anti-harassment campaign on the Washington, DC Metro system, including by testifying before the DC City Council in February 2012.
AAUW
From 2007-April 2013, Holly worked for AAUW, a national women's equity nonprofit organization. She oversees the Legal Advocacy Fund and Campus Action Project. She is the co-author of a national report on sexual harassment in grades 7-12, Crossing the Line: Sexual Harassment at School.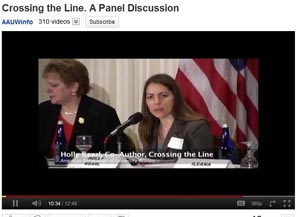 Prior to her position at AAUW, Holly worked in various positions at the National Women's History Museum from 2004-2007, starting as a summer intern before her senior year of college.
Education:
George Washington University
MA Public Policy & Women's Studies (2007)
Santa Clara University
BA History and BA Women & Gender Studies (2005)
Studied abroad for a year at Lancaster University, UK (2003-2004)
"How wonderful it is that nobody need wait a single
moment before starting to improve the world." - Anne Frank